Easter is almost upon us, which means one thing if (like me), you're not very religious. IT'S TIME TO CONSUME YOUR BODY WEIGHT IN CHOCOLATE.
With the rise of advent calendars over the years getting fancier and fancier, it would only make sense that once Christmas finishes, the next chocolate-fuelled holiday would also get it's own level of boujie'ness from companies, and they would elevate their offerings in order to ensure YOU buy THEIR product.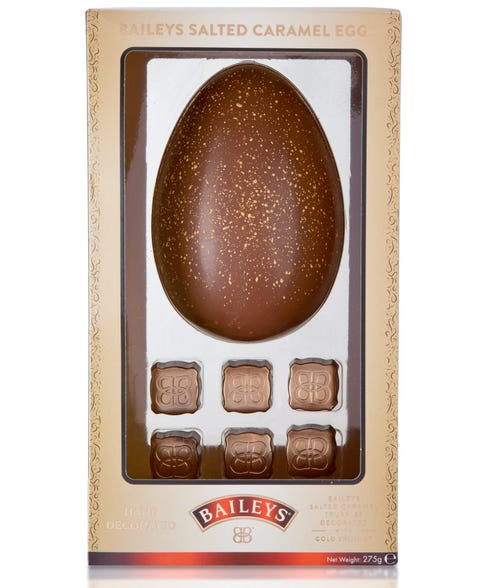 Well that's exactly what Baileys has done here, by taking one of the tastiest flavours on the market and combining it with their very own Easter egg. Introducing, the Baileys Salted Caramel Easter egg – which also has notes of their very delicious creamy alcohol drink.
Better yet, it's completely accessible to buy, and will only cost you £10 in supermarkets. I know, I hear you – that's quite a bit of money when you could just get a £1 egg from off of the shelf, BUT THIS ONE IS BAILEYS. So you know, there's that added bonus.
You can actually also buy a coffee version of the Baileys Easter egg, which comes with six little coffee flavoured chocolate goodies. I don't know about you, but I just want both of them. If anyone over at Baileys wants to surprise me this Easter with one of these goodies, feel free to slide on into my DMs because I'll happily test and review them for you.